Dear RINOs and all the other compassionate, reasonable, and rational sellouts to hedonistic "social justice" sales people:
We know what the term "revenue enhancement" means. If you think that you can cover it up by saying catch phrases that only the drooling, dull glazed look, basket people can understand, we have our own definitions of what you mean by the terms "closing loopholes", and "making the rich pay their fair-share" and the best one, "making a fairer tax rate".
This is an example of the memory of El Gringo Viejo. George Bush had been inaugurated three weeks before the Washington Post published the article which accompanied this picture of a hopelessly deranged "homeless'' woman. During the entire "co-presidency" of Billy Jeff Blythe and (Sir Edmund)Hillary not one mention was made about homelessness or street people or any such issue by the Washington Post....unless, of course, it was to point out how programs were being put in place to help those of who, through no fault of their own, had been thrown out of the mainstream of American society and deposited under the overpasses by 12 years of neglect by Ronald Reagan and George H.W. Bush. We knew what you meant by that, too. Time for some of that "Magic Snake Indian Elixer and Tonic" called "Revenue Enhancement"....it cures everything.
George the Second comes in and three weeks later, look what happens:
You guessed it. Lengthy "human interest" stories about the massive homelessness and the absence of any plan to address the problem. We were told homelessness had diminished a great deal during the 1990s, but that began to change after it was learned that the Supreme Court would vote along party lines to install George Bush as President, against the wishes of an overwhelming majority of the citizens of all 57 states. This woman lost her house just hours after George Bush was selected and not elected. Now, only 5 weeks into the repressive Bush regime and war against women, and the war against minority children, homelessness has increased from 1,305 people nationwide to well over 10,000,000 people now crowding every available square foot under every overpass on the American Interstate Highway System. There is already a critical shortage of grocery carts that do not have "wiggly front wheel syndrome".
WE KNOW YOUR RACKET AND SHAKEDOWN SCHEMES. IF YOU ARE A RINO, AND YOU APPROVE ANY OBAMACONOMY INITIATIVE, OR FUND THE OBAMA SOCIALISED MEDICINE INITIATIVE, THEN WE'LL PROBABLY VOTE YOU OUT IN THE PRIMARY, EVEN IF WE LOSE THE GENERAL IN 2014, SO AS TO HASTEN THE COLLAPSE. PERHAPS FROM THE RUINS OF SOLOMON's TEMPLE WE CAN SALVAGE A FEW PIECES TO BUILD A NEW SYNAGOGUE.
We know the jargon used by the Obsolete Press, the RINOs, and the SOCIALLY CONCERNED means that anyone presently paying any income tax....defined as anyone who receives less back tham he/she paid in withholding, is considered by the obamocrats to be a millionaire and a billionaire. A person who made 30,000 dollars last year and had 2,500 dollars withheld, and then receives a 2,000 dollar "refund" check from the IRS....is a millionaire and a billionaire. Anyone who produces on any level and is not a gross consumer of central government largess is a millionaire and a billionaire. Such people are not paying their fair share.
Is it fair that a young couple making 100,000 dollars, and having no children, be allowed to keep all that money when they really do not need it? What about the single mom with six children, three of whom have special needs? She has no income, and yet just a few miles away there is a young couple, with no children, no cares, with too much money in terms of the needs that surround them.
So, we know that Obama needs just a little bit more from those who have been lucky enough to work their way through the secrets of the system while others were distracted by the need to care for children afflicted with spinabifida, anacephalic disorders, blood diseases, and diabetes all brought on by atmospheric, water, and ground contamination produced by uncaring, profit driven industries....who also never pay a fair share of their excessive, and sometimes obscene profits. (we know your dribble and demagoguery)
ONCE AGAIN...RINOS, REASONABLE, RATIONAL, CARING, COMPASSIONATE, VISIONARY, COMMUNITY LEADERS AND COMMUNITY ORGANISERS, SOCIALLY CONSCIOUS RELIGIOUS LEADERS AND COMMUNITY ACTIVISTS: WE KNOW WHAT YOU REALLY MEAN.
WE KNOW YOU MEAN TO SHAKE US DOWN FOR EVERY LAST THING AND CENT WE HAVE IN ORDER TO BUY VOTES AND TO GAIN POSITION FOR GOVERNMENT CONTRACTS and SUBSIDIES TO ARTIFICIAL BUSINESSES and "SOCIALLY CONSCIOUS PROGRAMS" (none of which work) FOR YOUR CRONIES.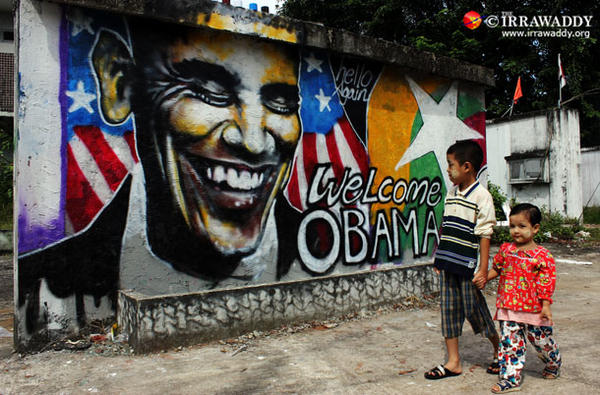 A WARM WELCOME TO OBAMA IN THAILAND
The parents of the little girl on the right just told her that the picture
is of the monster who comes
when you lose a tooth and put it
under the pillow. He yanks
all the rest of your
teeth out, and then bites your nose off. He
needs teeth. Lots of teeth. And money.
Your money.
And your nose.
And your ears, too.
We have some editting, and some preparing for our run to Austin and Dallas - Forth Worth. El Gringo Viejo and the Better three/quarters is going to take the AMTRAK from the Austin area to the DFW area and back, during the Thanksgiving Episode. My addiction to trains comes from cowardice after essentially crashing a Braniff 727 during the early 1970s, in Austin and from a particular affection for trains that my paternal grandmother had for the concept of "train travel". It is my affliction. More later.