___________________________________________
We have been through all of this before....living in Clearsprings Apartments adjacent to the campus of Southwest Texas State University....they were "the place to be" and I had the wherewithal to swing it. Heck, I was the night manager at Gil's Broiler!!! The olde Manske's Diner, the originator of the Manske Cinnamon Roll, a huge breakfast unto itself invented by a guy named Mr. Manske.
All you normal people have to understand that the Anglos had to put up with, not just Mexican and African types, but then there were in even greater abundance in the San Marcos area Czechs, Poles, and Bohemians, who dovetailed, albeit without a great deal of pleasantude the the Lutheran Germans and the Catholic Germans who also spent time fighting each other. Sometimes all those funny people even forgot how important we Anglos were and started doing things on their own....but all that is another story, and this story is that I was working for a Czech fellow named Rainocek, and he had the best hamburber joint, a half block from the campus of the 4th biggest university in Texas. Money happens. First you sweat, then.....money happens.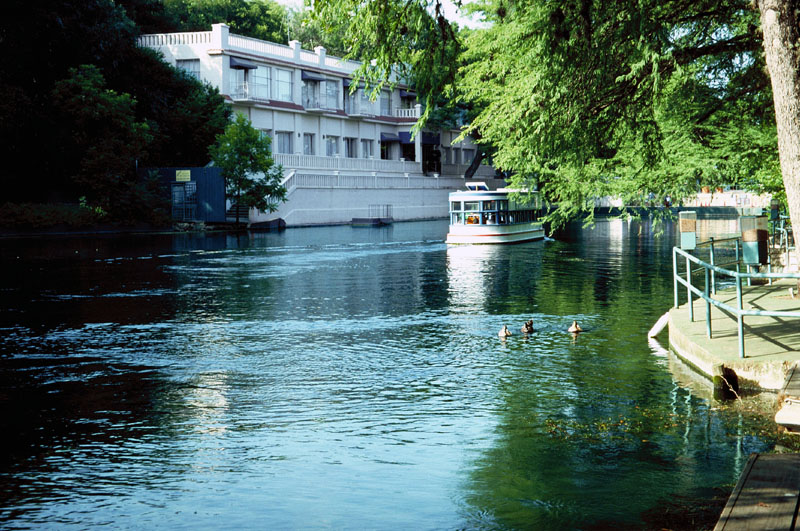 This was the scene El Gringo Viejo could see from the
parking lot of his apar
tment complex. the white
building
is a honeymoon hotel, built and put into
service by
Johnny
Weissmuller, the original and
best
Tarzan.
Johnny
bought and renovated an
early
Victorian,
dumping
over 300,000 Yankee
dollars
into its
restoration.
Since that was in the
1930s, figure
that h
ow such
an obra magna would
be
more like
3 million (USD
).
Texas State University
bought up
Aquarena
Springs a few years back,
and I am sure there
are clean-up crews already
present at this site.
The year after my graduation from Southwest Texas State University, San Marcos and neighbouring New Braunfels had a rain episode that caused water to rise to over the three story "Dee - lucks apartments" where I had lived. And we were right by the last cliffs of the Balcones Escarpment and the very springs of the San Marcos River. "It cain't never fludd here, nohow."
(It flooded) The rains closed the Interstate 35, they closed the accesses to Wimberly and Kyle, the entire city was under 3 to 8 feet of water. We think it might have been the year 1970 +/-....but it was around that time. This is just so you all will be aware that he who scoffeths, does so at his own risk.
Some years back...not too distantly.... the better three/quarters and I were considering moving into Wimberley, because we had enough shekels to place a 50% downpayment on a ramshackle "future bed and breakfast on one acre, fronting on the Blanco River. But there was something in the back of my mind that said....everything here we should be able to excavate archaeologically in ten or fifty thousand years down by the coast. So we deferred.
Trying Times. There will be a bit more...including this admonition. We really, really urge folks to select any old posting, just randomly, and/or peruse the posting for the past couple of weeks or months. It will serve you well, if you will forgive the conceit. More is to come to-night and to-morrow and in the coming days..
(a hint....El Zorro lives in the middle of all this storm, tornado, and flood mess, in his "little steel-roofed mansion" on the hilly prairie, surrounded by ghosts of the Cherokee and Comanche and the Chickasaw along with scores of oil and gas wells. We shall draw some similarities between his abode and ours in Mexico....cats, dogs, ghosts, and all in the next few days.)
___________________________________________